Frequently Asked Questions
How long does the scanning take (on-site shooting) ?
---
The scanning time depends on the surface and the complexity of the project (number of floors, brightness, access, etc.). For example, allow around 1 hour / 1h30 for the digitization of a 100m2 project under normal conditions.
---
What is the delivery time for the virtual tour?
---
Delivery times are 48 hours for projects up to 400m². Beyond that, the deadlines may vary depending on the complexity and personalization of the project.
---
Can we integrate information into the virtual tour ?
---
It is of course possible to enrich and personalize your 3D virtual tours. In order to improve the user experience, we can integrate: - Information in various formats (text, photos, videos, link, .pdf, etc.) in the form of Tags. - "Calls to Action" button or Pop-up window - Logos, music, narration, interactive map, etc.
---
Can we extract photos and videos from the virtual tour ?
---
YES, we can extract photos in standard format for classic web use (ad site, website, etc.) or 360 ° for social networks for example.
We also create walkthrough video / teaser from the virtual tour personalized or not.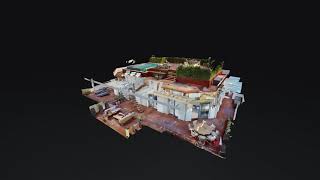 ---
What is the difference between a Matterport virtual tour to another ?
---
Classic virtual tours are assemblies of several 360 ° photos linked to each other made using any type of camera. Matterport virtual tours are carried out using a camera equipped with 6 photo sensors and 3 infra-red sensors to capture photos and measure spaces simultaneously. This technology thus makes it possible to model a real space in 3D, commonly called a "3D virtual tour" or "digital twin". The rendering is thus more realistic, interactive and intuitive. At Explore In 3D, we have chosen to equip ourselves with Matterport technology, allowing us to deliver faithful and immersive virtual tours.
---
How is the virtual tour delivered ?
---
The virtual tour is delivered as a link via email.
You can then share this link by email, instant messaging (SMS, WhatsApp, Messenger, etc.), online announcement or integrate it into a website.
---
Can we publish a virtual tour on ad sites ?
---
-Real estate sales site : Whether it is professional ad sites (seloger.com, logic-immo, etc.) or individuals (Leboncoin, PAP, Paruvendu, etc.), it is possible to integrate the link directly into the virtual visit tab or insert the same link in the description of the ad. - Short & long term rental site : Some platforms, such as the French leader in short-term rental, Abritel (Homeaway / VRBO group) allow us to directly integrate virtual tours into your accommodation pages. This same platform offers the possibility of integrating a video into your ads.
---
Is the virtual tour visible to everyone?
---
Whether broadcast in public (ad sites, website, etc.) or privately (email, SMS, etc.), virtual tours can be accessed with or without password protection.
---
Can we digitize an independent area ?
---
Our technology is designed to digitize fully communicating structures. Separate structures cannot be included in the 3D walkthrough, nor in the extraction of a 2D floor plan. If you want to include an independent space (garage, chalet, annex apartment, etc.) in your model, we can integrate it in the form of 360 ° panoramic photos or dedicate a model specifically for this area.
---
Can we digitize the exteriors (gardens, terrace, roof-top, etc.) ?
---
For most projects : Our 3D camera was developed for indoor use. Direct sunlight interferes with the collection of data required for scanning. Unless the customer specifically requests, the exteriors are photographed at 360 ° (without measurement record) in order to be linked to the 3D model in the form of a "Panoramic view". On express request : Thanks to specific equipment, our experience and different techniques, we can model outdoor spaces for an even more stunning rendering. Depending on the project and desired result, we will find the appropriate solutions.
---
Can we integrate the virtual tour on a website ?
---
YES, it is very easy to integrate the virtual tour on its site thanks to the sharing link which is transmitted to you and to the various plugins of integration of your CMS or thanks to the html code.
---
What are the guarantees ?
---
At Explore En 3D, we believe that customer satisfaction comes first. If, despite our best efforts, you should not be satisfied with the result obtained, you can within 5 days of receiving your 3D 360 ° Virtual Tour inform us by registered letter of the cancellation of your order.
---
---